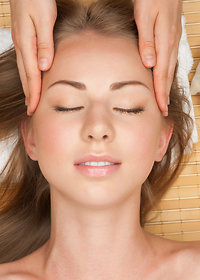 How can Champissage help me?
Marin and Katherine qualified as practitioners at the London Centre of Indian Champissage in 2001.

Champissage is a form of Indian Head massage which includes massage of the shoulders, upper arms, neck, scalp, face, ears and energy balancing.

It is used to relieve shoulder, neck and upper body pain and stiffness, improve flexibility and counter stiffness in the upper body.

Champissage is also a wonderfully relaxing therapy. Safe with no known side effects, it relieves stresses and tensions. It
balances our energy flows, giving a deep sense of peace, calm and tranquillity.

Soothes, comforts and balances our energy system giving us a deep sense of peace and calmness of mind, body and spirit.



What is Champissage?
Champissage, which includes Indian Head Massage, is a massage of the upper body and head.

It was originally introduced to the west and further developed by Narendra Mehta.

It is based on the traditional form of Champi head massage, practised in India over the last 1,000 years.

He had encountered it from the massages given by Indian barbers after they had cut and washed their clients' hair. From this it was developed and expanded to be a massage of the whole of the upper body - head, neck, shoulders, back and arms.

It also balances and harmonises the Chakras, the energy centres of the body.
How is Champissage given?
Champissage is a massage which is given with the patient sitting on a chair fully clothed.

Starting with the shoulders, the whole of the uppder body - arms, back and shoulders, followed by the neck and then the head are massaged.

No oils are used for this massage, so this treatment can be given anywhere. We are happy to travel to give this treatment to clients.